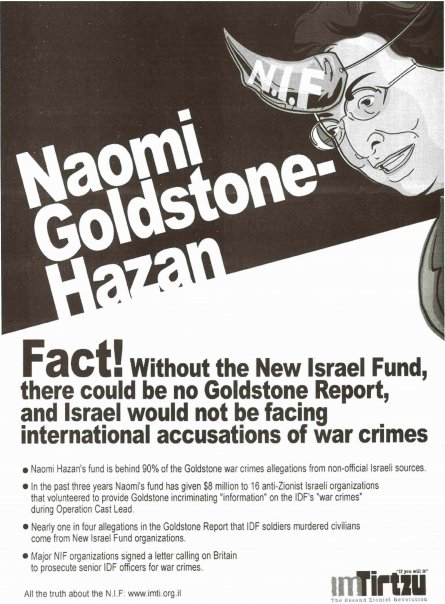 Im Tirtzu, the New Israel Fund, the Palestinian-led non-violent protest movement against the Wall, and the launch of our newest blog, www.theonlydemocracy.org.
Cross-posted at Huffington Post
By JVP Executive director Rebecca Vilkomerson and  Jesse Bacon, JVP Board Member and co-editor of theonlydemocracy.org.
Over the last week there has been a significant outcry in Israel and in some Jewish circles in the US about an ugly, anti-Semitic, and sexist ad campaign against the US-based New Israel Fund (NIF), a key funder of Israeli civil society and human rights groups.
The originator of the campaign, the far-right group Im Tirtzu (meaning "if you will it," which is a fragment of a famous sentence of Herzl's about the founding of Israel,) has drawn condemnation across more of the political spectrum than usual. What has caused the most outrage is a picture of an evil-looking Naomi Chazan, board president of the NIF, with a horn coming out of her head, a classic anti-Semitic trope. But more attention should be paid to the text of the ad: "Without the New Israel Fund, there could be no Goldstone Report, and Israel would not be facing international accusations of war crimes."