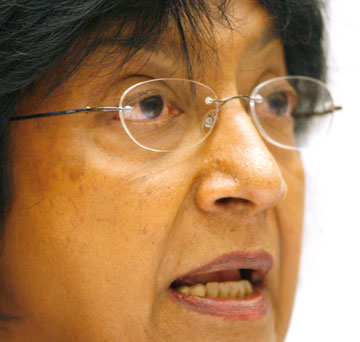 This is from the final press statement of Navi Pillay, the High Commissioner for Human Rights, who announced the likely adoption of the final report and then launched into it:
It was very difficult. I had to face a widespread, and highly organized campaign of disinformation. Many people, including Ministers with whom I spoke, told me that the Durban Declaration and Programme of Action, which as you know was agreed by 189 states at the original World Conference Against Racism in 2001 was anti-Semitic, and it was clear that either they had not bothered to read what it actually said, or they were putting a cast on it that was, to say the least, decidely exaggerated.

Many others have labelled the entire Durban process as a "hate fest." We have had some rough moments in the process, but a "hate fest?" I'm sorry, this is hyperbole. It is a gross exaggeration. But it is everywhere on the Internet. And I'm sorry to say many mainline newspapers who incidentally declined many op-eds that I sent up to them. Because I kept urging States to take part, one of the most vociferous opponents of the conference called me the "dangerous High Commissioner for Human Rights." So if you see a special look about me, that's the danger. Another called me the "ludicrous High Commissioner for Human Rights." That look I have dropped since. I expect these types of personal attacks to continue for the rest of my tenure. But I can live with them because I see this conference as a success and I know that you will judge this process in a valid and fair way.

If people actually read the Durban Declaration and Programme of Action, they would have realized that it includes a paragraph which says that "the Holocaust should never be forgotten". It includes two paragraphs that denounce "anti-Semitism and Islamophobia", and one paragraph which mentions the suffering of the Palestinians, their right of self-determination and the security of all States, including Israel, and two paragraphs calling for peace. That's all there is on the Middle East. And I could not get these corrections published in some important newspapers, particularly in the US, who used the word hate fest without checking these paragraphs.

The final document of this conference – the Conference product, if you like – also says the Holocaust must never be forgotten and deplores anti-Semitism along with Islamophobia and all forms of racism, xenophobia, racial discrimination and related intolerance. But already the propaganda machine is starting to wind up to term this conference a failure, a "hate fest and all the rest of it." This is extraordinary. Yet no one has really written up the true story of this Conference – a strange rough and tumble affair full of smoke and mirrors, I must admit, yet very definitely a success story, with plenty of good will as well as plenty of bad will of the type I have described just now.

I want to say at this point particularly to you that the Geneva press corps has been terrific during the later stages of this process. You have seen through the propaganda, you have read the DDPA and the Review Conference's outcome document, and you have reported accurately, fairly and professionally. So on behalf of my entire office, I would like to extend you a very warm thank you for that. I believe you have played an exceptionally important role. I know that some of you have had to argue with editors who, like so many others, have succumbed to the mythology.

But because of this campaign that was so determined to kill the conference, some countries decided to boycott it, although a few days earlier, they had actually agreed on what is now the final text. I consider this bizarre. You agree the text on Friday evening, and walk out on Sunday. I think, it was unfortunate that a few states disengaged from the process. Although almost all of them had agreed this text, they are not part of the consensus that adopted it. I do hope they will come back into the process now. They can still add their names to the list of 182 states that have adopted the outcome document. And by the way, Iran is part of that consensus. When the final call came, Iran did not oppose the text.
There are a lot of benefits of a wholesome lifestyle. But can medicines help us? In fact, it is not so easy to find trusted web-site. Choosing the best treatment edition for a racy disease can get really confusing considering the merits and demerits of the existing treatment methodologies. Diflucan (fluconazole), the first of a new group of synthetic antifungal agents, is existing as a powder for oral suspension. Viagra which is used to treat erectile dysfunction and similar states when erection is of low quality. Cialis is a medicine prescribed to treat a lot of complaints. What do you know about buy cialis online cheap? Our article focuses on the treatment of erectile dysfunction and buy cialis cheap. Generally, both men and women suffer from sexual dysfunctions. What are the symptoms of sexual disorders? In fact, a scientific reviews found that up to three quarters of men on such preparation experience erectile disfunction. Such disease is best solved with occupational help, commonly through counseling with a certified physician. Your sex therapist can help find the treatment that is better for you and your partner. The most common objectionable side effects of such medications like Cialis is dizziness. This is not a complete list of potential side effects and others may occur. Even if this preparation is not for use in women, this medicine is not expected to be harmful to an unborn baby.